Latinx Heritage Month
Amor y Salud
The Latinx community has a vast and complex history of Conquista, revolution, colonization, immigration, and advocacy. What keeps our community together are values that transcend these systems and events that have many times hurt our community. We actively reframe and strengthen our changing culture and language to reflect who we are and where our community will go.
This year we are using two words in the Spanish language that encompass more than their English translations can. The first is "Amor" which translates to "love." The Latinx community brings closeness and warmth within and outside familial connections. Whether it is food, music, art, or different practices, "amor" guides the way we relate to one another. The second word is "Salud." A word that encompasses health as we continue to heal and take breath after hardships that disconnected us. "Salud" also means "to toast," and so we bring in this year in stride to boldly love and support our community. We take the time and space to celebrate our culture and exist in liberation.
The Latinx Cultural Center will be following UW–Madison Covid-19 policy for all events.
For more detailed information on events, please click on the event titles below, contact us at latinxcc@studentlife.wisc.edu, and follow us on social media.
LCC Facebook: https://www.facebook.com/UWLatinxCC
LCC Instagram: https://www.instagram.com/uwlatinxcc/ or @uwlatinxcc
Accessibility statement: For questions/accommodations, please e-mail: latinxcc@studentlife.wisc.edu
2021 Events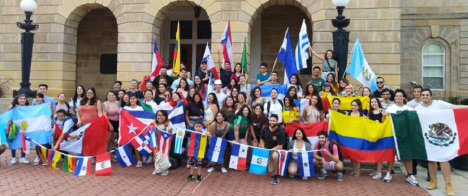 Latinx students holding flags representing their identity and culture at March Up Bascom during Latinx Heritage Month 2019.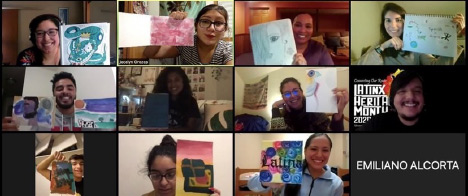 Screenshot of Latinx Students holding up art provided for the program at a Tu Voz: Latinx Heritage Month Edition event.

A gift basket holds Latinx-related prizes for attending Latinx Heritage Month events. Items include a LHM shirt, different Latinx candy, and more.
Thank you to the Latinx Heritage Month 2021 Student Planning Committee
Questions?
Contact us: 608-262-4503
Are you searching for something specific?