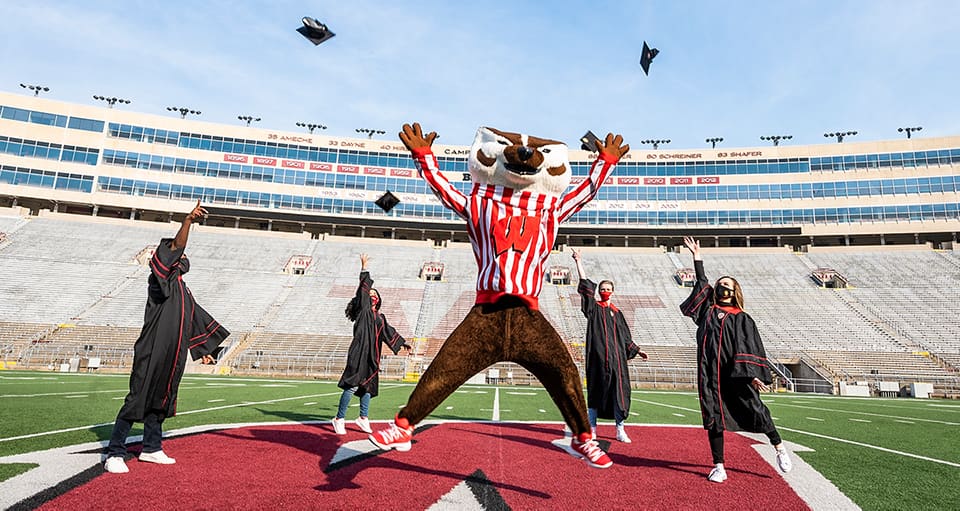 Saturday, May 8, Noon
Bachelor's Degree Candidate Ceremony
Keynote speaker: UW alumnus and Broadway star André De Shields

Saturday, May 8, 4 p.m.
Graduate Degree Candidate Ceremony (including Doctoral, Law, Medical, Professional, and Master's Degree Candidates)
Keynote speaker and Honorary Degree Recipient: groundbreaking psychologist John Gottman, Ph.D.

If You Want to Be a Badger
UW Marching Band
Who doesn't want to be a Badger? The UW Marching Band, led by Director Corey Pompey, play one of UW-Madison's favorite songs.
On, Wisconsin!
UW Marching Band
Director Corey Pompey leads the band in a rendition of the school's fight song, one of the most popular and inspirational college fight sings in the nation.
Celebration and Graduate Recognition
Schools, colleges, units, departments and organizations are ready to celebrate the Class of 2021! Check out the schedule of celebrations for additional information.
Celebration Events
Welcome to Alumnihood!
The Wisconsin Alumni Association (WAA) wants to help you hold onto what you love about the UW by presenting a complimentary, two-year membership — plus BONUS Wisconsin felt pennant magnet. Becoming a WAA member is the best way to continue your Wisconsin Experience — wherever your degree takes you. Activate your no-cost, two-year membership today! Make sure to keep an eye out for your alumni pin and welcome letter in the mail; it will have instructions on how to activate your complimentary membership.
Learn More
Wisconsin Union Lifetime Memberships
The Wisconsin Union Association celebrates your accomplishment and is pleased to offer you a lifetime Wisconsin Union membership for just $50. This represents a 75% discount in recognition of your achievement, especially during this challenging final year. Your membership provides a lifetime of connection to a place that's been an important part of your time on campus, and discounts and opportunities that will keep you coming back.
Purchase Your Union Membership
Class of 2021 Playlist
Whether in-person or online, the class of 2021 knows how to have a good time. Celebrate their achievements with some classic feel-good tunes and a few songs that define their college experience.
Open in Spotify
#UWGRAD
No matter how you choose to celebrate, share the moment using #UWGrad. We look forward to recognizing all of our graduates this May and our next email will contain more information about the virtual commencement celebration.
One Word, One Wish
Share your message with the Class of 2021! Create a Tribute video with one word that describes the class of 2021 and/or one wish you have for graduates as they start their next chapter.
Share a message
Send Your Grad a Video
Send a video message directly to your graduate. With DIY Tributes, you can create an uplifting and commemorative video montage that includes friends and family members as a celebratory keepsake.
Submit a tribute
Virtual UW Backgrounds
The Wisconsin Alumni Association would like to welcome the Class of 2021 to the Badger family! Ready to keep your U-Rah-Rah going? Check out these spirited virtual backgrounds so you'll never feel too far away from your soon-to-be alma mater and favorite campus spots.
Browse Backgrounds
---
Celebrating the Class of 2021