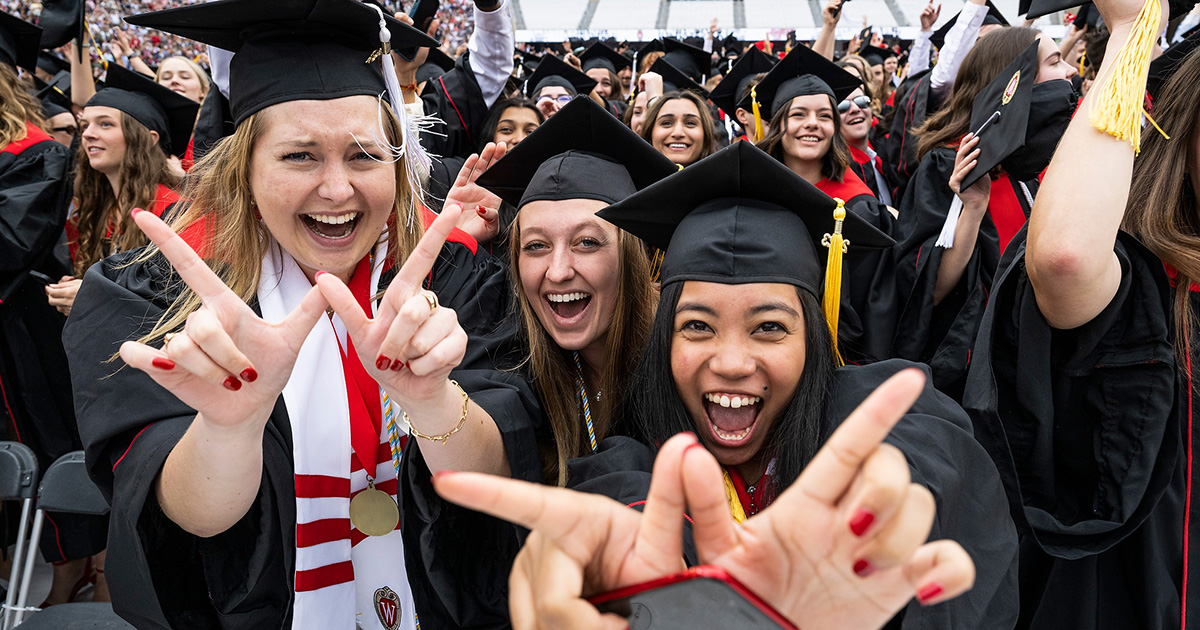 Speakers
More videos of ceremony speakers will be added here as they are processed. Please check back later.
Opening Remarks, Chancellor Jennifer Mnookin
Chancellor Jennifer Mnookin delivers remarks to bachelor's, master's and law degree candidates.
Keynote Speaker, Eric H. Holder Jr.
Former U.S. Attorney General Eric H. Holder Jr. delivers the commencement address
Student Speakers
Sydney Bobb '23, BA, African Cultural Studies and Faith Ocoko '23, BS, Neurobiology
Remarks on behalf of the graduates
Liam McLean, '23, BA, Political Science, Senior Class President
2023 Honorary Degree Recipient, Cecil Garvin
Cecil Garvin is a highly respected Ho-Chunk elder who has devoted much of his professional life to the preservation and promotion of the Ho-Chunk language and culture.
Celebrations
School and college events
Make sure to celebrate with your school, college, unit, department, or organization. Check out the schedule of celebrations for additional information.
Watch from the Unions
The Wisconsin Union team invites you to a livestream of the Camp Randall Stadium graduation ceremony at Union South's Sett, or Memorial Union's Rathskeller. Seating is first come, first served, and there are thousands of seats and dining options. Find more information about these and other Union-hosted graduation events, such as free concerts and free professional photos of grads on big Terrace chairs.
Welcome to Alumnihood!
The Wisconsin Alumni Association (WAA) wants to help you hold onto what you love about the UW by presenting a complimentary, two-year membership — plus bonus Wisconsin felt pennant magnet. Becoming a WAA member is the best way to continue your Wisconsin Experience — wherever your degree takes you. Activate your no-cost, two-year membership today!
Wisconsin Union lifetime memberships
The Wisconsin Union Association celebrates your accomplishment and is pleased to offer you a lifetime Wisconsin Union membership for just $50. This represents a 75% discount in recognition of your achievement, especially during this challenging final year. Your membership provides a lifetime of connection to a place that's been an important part of your time on campus, and discounts and opportunities that will keep you coming back.
UW–Madison Spring Graduation 2023 Spotify Playlist
Attention Graduates! Listen now to the UW–Madison Spring Graduation 2023 Spotify playlist.
Celebrating the Class of 2023