Asian Pacific Islander Desi American (APIDA) Heritage Month 2022
Courage in Community
There are no singular attributes that define the diverse and unique ethnic and cultural groups within the Asian Pacific Islander Desi American community — no food dish, item of clothing, or religious practice — except for the conscious and political choice to unite as one. As Asian Pacific Islander Desi Americans, terms have historically been imposed on us by the majority that compress our individual cultures into one homogenous group (terms such as "The Asian Race," or "The Model Minority," or "The Wealthiest Race in America"). These terms have marked us as perpetual foreigners and reduced our identities to superficial, and often trivial, similarities. We challenge this and declare that being APIDA empowers us and brings us together. For those of us who have already found an APIDA community on campus or those still waiting to make their way— our voices are stronger together when we find Courage in Community. This April, we invite you to join us in celebrating our empowered APIDA identities!
For more information, please contact us at apidasc@studentlife.wisc.edu. Follow us on Social Media @uwapidasc. #apidahm #apidahm2022 #studentlife
An Evening with Thuy
Performance and Q&A with up-and-coming Vietnamese American R&B singer songwriter
7 p.m., Wednesday, April 27
The Sett, Union South
Download the poster (jpg)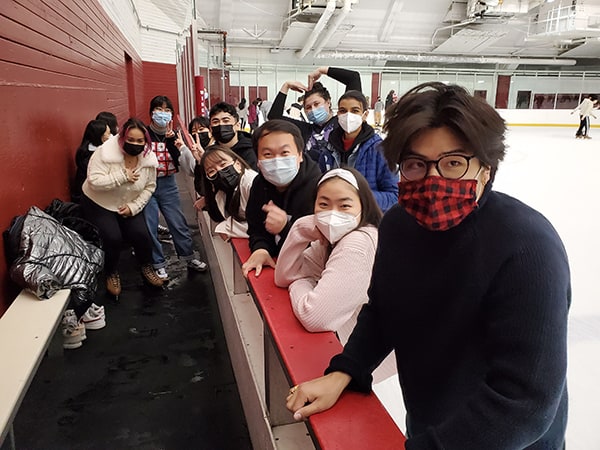 APIDAHM Skate Night
Students of the APIDA Heritage Month Planning Committee gathered at the Shell for Open Skate Night.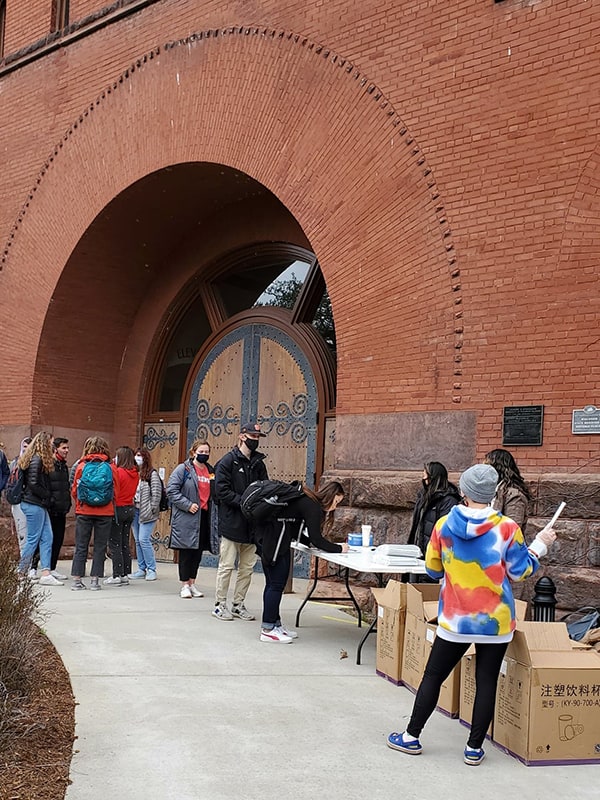 APIDAHM Boba Pickup
A line of students in front of the Red Gym for their free cup of boba tea to commemorate the Lao, Cambodian, and Thai New Year and celebration during APIDA Heritage Month 2021.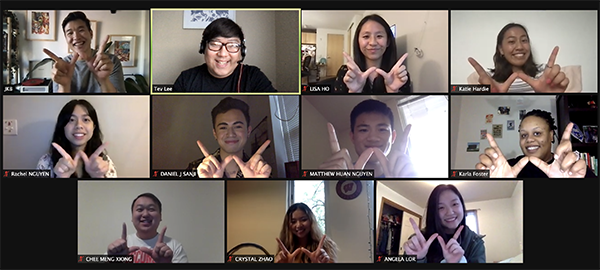 APIDA Students holding up the "W" with APIDA Heritage Month 2021 Keynote, Joel Kim Booster.
Thank you and recognition
The APIDA Student Center, main sponsor of the APIDA Heritage Month, is an extension of the Multicultural Student Center (MSC) at UW–Madison. We would like to extend a special and heartfelt "Thank You" to the members of the APIDA Heritage Month Student Planning Committee for their contribution, dedication, time and effort. We would also like to recognize the following individuals and groups for their support and collaboration throughout the APIDA Heritage Month celebration:
Wisconsin Foundation & Alumni Association
Asian American Studies Program
Gender and Sexuality Campus Center
University Housing
Center for Cultural Engagement
Public History Project
APIDA Student Organizations and Greek Life participating throughout the month
Individuals and groups who were willing to be featured at the APIDA Gala
Special recognition to Representative Francesca Hong as our APIDA Gala Speaker.
Make an Impact
The Asian Pacific Islander Desi American Student Center (APIDASC) serves APIDA identifying students by facilitating opportunities for academic and social support, co-curricular programming, and community building. It exists to acknowledge the specific and particular realities within APIDA communities at UW–Madison, while also connecting communities to the larger Wisconsin Experience and fostering a sense of belonging. Please consider donating transformational dollars to the APIDA Student Initiative Fund, dedicated to uplifting and affirming the voices, experiences, and dynamic lives of APIDA Badgers.
Are you searching for something specific?